Bio
SOLJOI77 MUSIC BIO: 
Soljoi77 is a Hudson Valley, NY Alternative R&B band, blending the flavors of Neosoul, Dance, Hip Hop, and Jazz. Soljoi77 is comprised of singer/lyricist CHAYA, and producer/composer Chris. They fell in love with writing and producing their own original music in 2018 and have continued creating and expanding their style since then.  
Their songs explore romance, self-love, spirituality, and desire, in pursuit of personal evolution. Through the positive energy in their music, they hope listeners will experience positive feelings of joy, love, empowerment, and peace.  
CHAYA expresses herself in ornate, romantic, and dreamy language, with raw textured vocals and/or spoken word, set over the landscape of Chris' intellectual and sensual compositions, produced with complex and euphoric ambient sonics.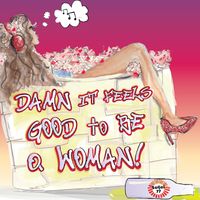 They have released 8 singles since January 2020. "Damn It Feels Good to Be a Woman", "Here With Me", "Slippery", "Luminous Love", "Dance With Me",  "Damn It Feels Good to Be a Woman-SUNSHINE MIX", "Take It Down", and their latest "All My Love". Their music is available for purchase on the Music Store page and through all streaming platforms including Spotify, Apple Music, Amazon Music, and YouTube.  
On March 25th, 2022, they released their first EP of 4 songs entitled "Shores of Opulence"! It is also their first experience being represented under a record label and production music library: LabHits Records in L.A- which they are very excited about! This was a goal they had been working toward for a couple of years.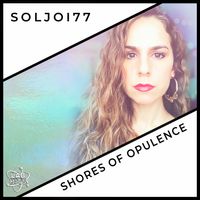 The "Shores of Opulence" EP is a sonically transcendent, genre bending compilation, designed to have you high vibing at various levels of desire, joy, enlightenment, and euphoria. These songs embody a fresh synergy of Alternative R&B, Rap, New Age, Electronic, and Future Soul. The songs feature deep intellectual grooves, booming bass, minor keyboards chords, textured soulful vocals, beautiful and seductive vocal harmonies, conscious lyrics, dreamy synths, and chimes. Most of the songs on the EP center around the themes of realizing one's dreams and experiencing the validation and joy of self actualization.  
Soljoi77 is continuously writing, recording, and producing new music for upcoming releases.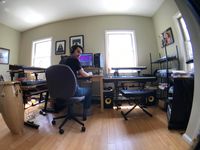 ABOUT CHRIS: 
When Chris was 9 years old, his parents bought an organ.  Later he learned to play the trombone and accordion, but keys (piano, synths, etc) are his thing.  He started recording and producing music about 15 years ago. As a child, he was exposed to the Beach Boys, Bee Gees, and Neil Diamond, and knew most of their songs.  Today, Chris listens to pretty much all types of music, but loves dance music, R&B, pop, funk, and jazz, especially from the 1970s and 1980s.  One of the main inspirations to start making his own songs was Daft Punk's album Discovery. He currently lives in Cold Spring with his wife and 3 children, where he enjoys taking walks and talking to his cats. 
ABOUT CHAYA: 
Born and raised in Brooklyn, NY, CHAYA grew up with a passion for Hip Hop, R&B, and NeoSoul which shaped her musical style. Her life purpose has been about bringing joy and healing through beautiful mediums and self-expression. She is a full time Speech Language Pathologist of 14 years. She also has a background in studying energetic healing, positive psychology, singing, dance, yoga, creating aromatherapy skin care products, and creative writing. A lifelong participant in self inquiry and a romantic at heart, these facets set the stage for her song writing. When she's not working or spending time with her family, she loves meditation and walking in nature, in addition to writing, recording, and singing Soljoi77 songs. She lives with her husband and 2 children in East Fishkill.  
SOLJOI77 IS UNIQUE: 
Their sound is a unique and approachable fusion of alternative r&b, jazz, rap, electronic, and future soul with lyrical explorations in romance, positive psychology, and new age. 
Family first- they are all about family. 
Being a songwriter who is also a full time working mother is somewhat unique for a musician. However being a full time working mom is a very common, relatable experience. That gives CHAYA a certain perspective that influences her writing at times. In addition, her experience as a therapist who empowers students and who specializes in language and phonology, among other things, filters through in her lyrical flow, content, and also the speech sound combinations she chooses as an art form. Lastly, her gravitation to spiritual concepts blend seamlessly with Chris' dreamy, spacey, and intellectual tracks. 
At this point they are a one stop shop in terms of composing, recording, writing, producing, mixing, mastering. Chris composes the tracks and records them at home. CHAYA writes lyrics and creates the vocal melody, and then records the vocals and harmonies in her home. Chris produces, mixes, and masters the music and they collaborate back and forth. 
VISION: 
The vision of Soljoi77 is to create positive and energetic music  that brings joy and vibrance. Join the mailing list for updates on new music releases and performances and be a part of the Soljoi77 experience!  
With Love and Light.  
What's in the name Soljoi77??? 
*The name Soljoi77 was derived as a combination of "Sol" for sunlight and soul. Joy/"joi" is CHAYA's  middle name. 77 is the number that she sees daily, particularly when she is thinking about music. In Numerology the #77 represents the energy of expression of personal freedom. It is introspective, adventurous, sensual, and spiritual. It also refers to aspects of mysticism, analysis, curiosity, intuition, wisdom, and intelligence.*  
SOLJOI77BAND@GMAIL.COM